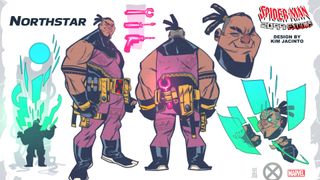 (Image credit: Marvel Comics)

Steve Orlando promised debut of many new 2099 characters in his limited series Spider-Man 2099: Exodus. But the writer also promised the return of many of the original Marvel 2099 characters like X-Men 2099.
And in August's Spider-Man 2099: Exodus #5, the series finale, readers will get both – new and returning X-Men from the 2099 future.
The series marks the 30th anniversary of the debut of the 2099 imprint, and not too far removed from the events of Marvel's current-day event Judgment Fay, a Celestial falls to Earth in the grim, dystopian 2099 future.
Miguel O'Hara, AKA Spider-Man 2099, tries to protect the hope the Celestial brings, and each issue of the Exodus series features Spider-Man 2099 crossing paths with new and returning characters and elements of his world.
in Exodus #5, Orlando and artist Kim Jacinto debut the new X-Men 2099, with original 2099 characters like Cerebra, Krystalin, and Bloodhawk along with new additions o the team sporting familiar names like Cyclops, Northstar, Phoenix, and Kid Cable.
Check out a gallery of character designs of the new characters:
"From the comics to the toys, X-men 2099 was nothing more than the coolest stuff for me when I was just dipping my toe into reading monthly comics, launching right as I switched over from reading whatever I could from flea market back issue bins, to finally having a comic store and following books month to month," Orlando explains in Marvel's release accompanying the designs.
(opens in new tab)
"The world was desolate and engrossing, the team was both familiar and different — a ragtag chosen family of mutants just struggling to survive. So, to celebrate that for 2099's 30th Anniversary is just kickass. To get to work with some of the first X-Men I ever met? Just kickass. And to add to that family, with faces both old and new? That's like some cross-temporal electricity jolting back to whatever part of my brain holds my childhood. It wouldn't be 2099 without the X-Men, and here? We've got a team built to nod to the past but also dive headlong into the future!"
"It's such a great honor to design these characters! My design choices are inspired by different artists like Greg Baldwin and Dave Guertin from CreaturBox, Sean Galloway, Segi Brosa just to name a few. Looking at their designs helped me to envision and create these X-Men 2099 characters," Jacinto adds. "This is a dream come true for me!"
Marvel has also released a few first look pages from the series, along with covers by Ryan Stegman, JP Mayer, and Arif Prianto, Ken Lashley and Juan Fernandez, and Ron Lim and Israel Silva.
Spider-Man 2099: Exodus #5 goes on sale August 3.
Spider-Man 2099 ranks among the best Spider-Mans in the entire Marvel Multiverse.
I'm not just the Newsarama founder and editor-in-chief, I'm also a reader. And that reference is just a little bit older than the beginning of my Newsarama journey. I founded what would become the comic book news site in 1996, and except for a brief sojourn at Marvel Comics as its marketing and communications manager in 2003, I've been writing about new comic book titles, creative changes, and occasionally offering my perspective on important industry events and developments for the 25 years since. Despite many changes to Newsarama, my passion for the medium of comic books and the characters makes the last quarter-century (it's crazy to see that in writing) time spent doing what I love most.