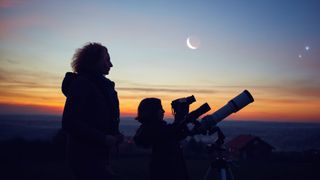 This month will see many planets shift from the morning to the evening sky.
(Image credit: m-gucci via Getty Images)

This month will see many planets shift from the morning to the evening sky.
Just a couple of months ago, everyone was clamoring to sight the unusual alignment of five naked-eye planets stretched out across the dawn sky; some in the news media were referring to it as a "Planetpalooza." But during August it is becoming apparent that planets are shifting out of the morning and into the evening sky.
Saturn leads the way, passing through opposition at midmonth — rising as the sun sets, peaking highest in the southern sky at midnight, and setting at sunrise. Jupiter follows a couple of hours later and Mars begins rising prior to midnight during the second half of the month. Even Mercury is an evening object, though its lowness against the bright western twilight sky makes it visible only with binoculars all through the month. The lone morning planet is Venus, which is gradually getting lower in the eastern dawn twilight; it has its final morning tableau with a slender sliver of a crescent moon toward month's end and then relinquishes its morning visibility in September.
Related: Night sky, August 2022: What you can see this month [maps]
In our schedule, remember that when measuring the angular separation between two celestial objects, your clenched fist held at arm's length measures roughly 10 degrees. Here, we present a schedule below which provides some of the best planet viewing times as well directing you as to where to look to see them.
If you're looking for binoculars or a telescope to see the solar system planets, our guides for the best binoculars and the best telescopes have options that can help. If you need photography gear, consider our best cameras for astrophotography and best lenses for astrophotography to prepare for the next planet sight.
Mercury
(opens in new tab)
Mercury might be glimpsed on the first day of the month in the evening sky. About 30 minutes after sunset, use binoculars and scan low above the west-northwest horizon and try to find this speedy little planet shining at magnitude -0.4. If you're successful, try to see if you can also pick out the bluish 1st-magnitude star, Regulus sitting less than a degree to mercury's lower left.
On August 27, Mercury attains its greatest elongation of 27 degrees east of the sun. Yet, observing conditions are unfavorable for mid-northern sky watchers. Being well south of the sun, Mercury sets by mid-twilight, less than an hour after sunset and does not attain naked-eye visibility from latitude 40 degrees north during this apparition. Since the planet will fade from magnitude -0.6 to +0.3 between August 1 and 27, observers with binoculars are most likely to see it early in the month.
Venus
(opens in new tab)
At the start of August rises at the break of dawn, but by the final week of the month, Venus appears decidedly lower and doesn't rise until about an hour before sunrise. On August 25, set your alarm clock for 5:30 a.m. and look low toward the east-northeast horizon to see a thin crescent moon hovering about 6 degrees above the brilliant light of Venus. On the following morning, an even slimmer crescent will be a similar distance from Venus but will have shifted to its lower left.
Mars
(opens in new tab)
Mars rises around 12:20 a.m. daylight saving time at the beginning of August, and an hour earlier by the month's end. As the distance between our respective worlds diminishes, Mars continues to grow ever brighter; magnitude +0.2 on Aug. 1, it's a match to Arcturus both in color and brilliance (-0.1) by the 31. On August 19, you'll no doubt notice Mars appearing as a very bright fire-hued "star" sitting a couple of degrees below the last quarter ("half") moon. Also, take note of the Pleiades star cluster about 5.5 degrees to the upper left of Mars.
Related: Best telescopes for seeing planets 2022
Jupiter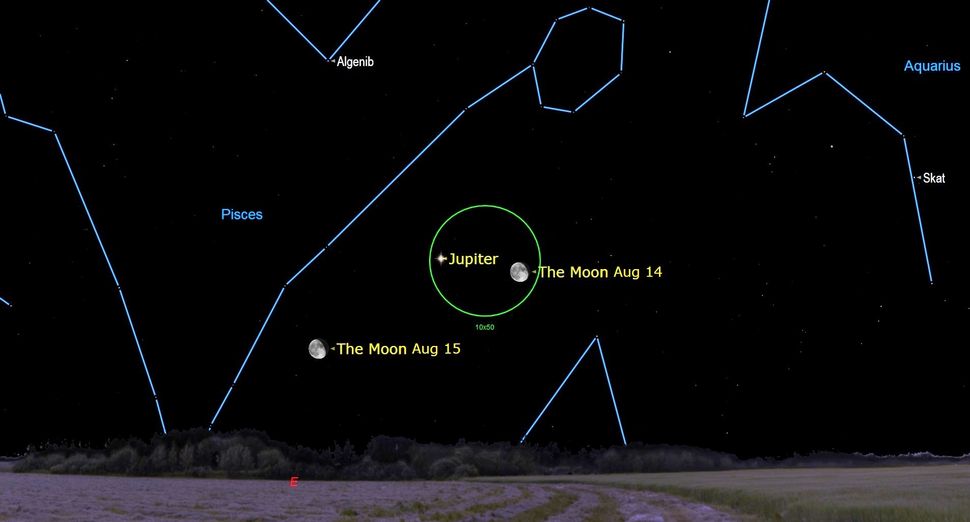 (opens in new tab)
Jupiter is magnificent this month on its way to its late September opposition. By Aug. 31 it will have brightened to an eye-popping magnitude of -2.9. "Big Jupe" rises around 10:40 p.m. daylight saving time at the start of the month but is closer to 8:30 p.m. by the month's end. On the evening of August 14, Jupiter will be hovering about 4 degrees to the moon's upper left
Saturn
(opens in new tab)
Saturn is a conspicuous sight at dusk during much of August. Until Jupiter makes its appearance a couple of hours later, Saturn is the lone bright "star" low in the southeastern evening sky. Shining at magnitude +0.3 in eastern Capricornus, it attains opposition on August 14.
You'll need only your eyes to follow Saturn as a gold point of light trekking into the south by midnight and setting in the west-southwest during dawn. But you'll want a telescope to admire Saturn's flattened globe and its always gorgeous rings. The latter are markedly more closed than in past years, appearing just one-fifth as wide as they are long. On the night of the full moon (August 11), the bright yellow-white "star" shining about 5 degrees to the moon's upper left is Saturn.
Joe Rao serves as an instructor and guest lecturer at New York's Hayden Planetarium (opens in new tab). He writes about astronomy for Natural History magazine (opens in new tab), the Farmers' Almanac (opens in new tab) and other publications. Follow us on Twitter @Spacedotcom (opens in new tab) and on Facebook (opens in new tab).
Join our Space Forums to keep talking space on the latest missions, night sky and more! And if you have a news tip, correction or comment, let us know at: community@space.com.
Joe Rao is Space.com's skywatching columnist, as well as a veteran meteorologist and eclipse chaser who also serves as an instructor and guest lecturer at New York's Hayden Planetarium. He writes about astronomy for Natural History magazine, the Farmers' Almanac and other publications. Joe is an 8-time Emmy-nominated meteorologist who served the Putnam Valley region of New York for over 21 years. You can find him on Twitter and YouTube tracking lunar and solar eclipses, meteor showers and more. To find out Joe's latest project, visit him on Twitter.